Meet Lyn
Lyn is a graduate of the University of Illinois.  She has an Associate's Degree from the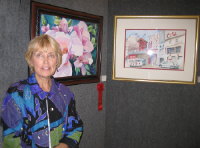 College of DuPage in Interior Design.  A resident of the western suburbs for 30 years, Lyn has two children, three darling grandchildren, and one very understanding husband of 50 years.
Lyn as been an interior designer for 30 years and owns her own business (Interiors by Lyn, Inc.).  She has taught flower arranging as well as gift wrapping and fancy bow classes in many park districts. She has taught at Barrington, Elmhurst, Naperville, and Oak Brook Park Districts. Currently, she is teaching flower arranging at Oak Brook Library.  Lyn is a member of the DuPage, LaGrange, Oak Brook and Addison Art Leagues. Her work is exhibited on a regular basis at the Addison Galleria, LaGrange Art League and DuPage Art League.
She began painting in 1997 after attending art and painting classes at College of DuPage. In addition, she has taken classes and numerous workshops with many noted instructors. She has displayed in various shows including Best of the Best. Many of her paintings have won several awards and ribbons.
Juried and Selected Exhibits
Rose of Sharon - First Place, LaGrange Art League, LaGrange, IL
Dead River Falls - First Place, LaGrange Art League, LaGrange, IL
Scarlet Lily - First Place, LaGrange Art League, LaGrange, IL
Snowy White Egret - First Place, Addison Art Guild, Addison, IL
Graceful Swan - Second Place, Addison Art Guild, Addison, IL
Magnolia Perfusion - Second Place, Addison Art Guild, Addison, IL
Monarch Enjoying Zinnias - Second Place, Addison Art Guild, Addison, IL
Rocky Coast - Second Place, Addison Art Guild, Addison, IL
Rocky Coast - Merit, Naperville Art League, Naperville, IL
Happy Trio - Honorable Mention, Addison Art Guild, Addison, IL
Tropical Waterfall - Special Merit, DuPage Art League, Wheaton, IL
Golden Swirl - Merit - Addison Art Guild, Addison, IL
White Calla Lily - Merit, Addison Art Guild, Addison, IL
Red Sky at Sunset - Merit, Oak Brook Art League, Oak Brook, IL
Yellow Calla Lily - Merit, LaGrange Art League, LaGrange, IL
Scouting the Waves - Merit, LaGrange Art League, LaGrange, IL
Lonely Tree - Merit, DuPage Art League, Wheaton, IL
Topical Waterfall - Merit, Addison Art Guild, Addison, IL
Brilliant Hybiscus - Merit, LaGrange Art League, LaGrange, IL
Oriental Ladies - Merit, LaGrange Art League, LaGrange, IL
Chicago Skyline Aglow - Merit, Addison Art Guild, Addison, IL
Red Sky at Sunset - Best of the Best, Mayslake, Oak Brook, IL
Snowy White Egret - Best of the Best, Mayslake, Oak Brook, IL
Monarch & Zinnia - Best of the Best, Mayslake, Oak Brook, IL
Brilliant Hybiscus - Best of the Best, Mayslake, Oak Brook, IL
Dead River Falls - Best of the Best, Mayslake, Oak Brook, IL
Red Sky at Sunset - selected for cover of the calendar for Northern Illinois Food Bank